Happy Memorial Day!  Each year on this day, we recount the sacrifices of our fallen and celebrate their service with a sense of pride and patriotism.  This celebratory holiday weekend signifies the end of May, but it also marks the unofficial start of summer!  That means it's time to fire up the BBQ and try a new summer recipe, and PHAG's here to dish on this simple Home Resolution.
For many, a nice evening by the grill is the perfect end to a PHun-filled summer day!  From zesty chicken skewers to artichokes, homestyle turkey breasts to the perfect steak- there's no shortage of foods made just a bit tastier when cooked over an open flame.  One of our PHavorites… summer corn!  Such a favorite, in fact, that these days it can be a bit of a BBQ bore, and eating it- well that can be a chore!
Time to get a grip… We've got a PHantastic way to add a colorful splash to any BBQ corn bash- these vibrant UniCORN holders are guaranteed to make your next corn-eating experience a bit more magical, giving your summer BBQ some real visual PHlavor.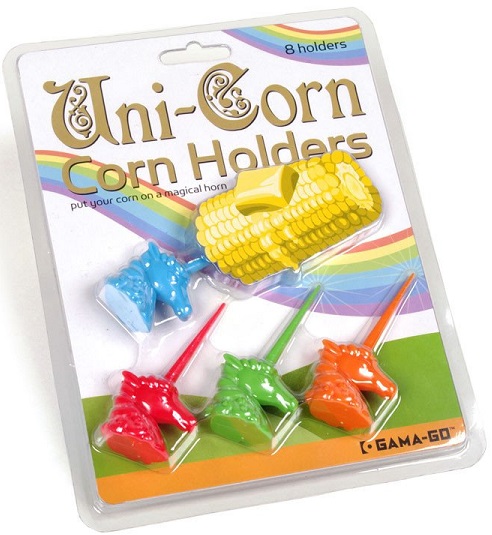 More interested in adding colorful PHlavor to the way your grilled corn tastes?  Try this blissfully delicious Creamy Corn & Pepper Salsa!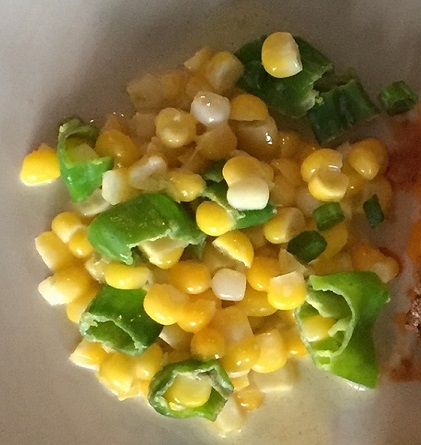 Ingredients:
4 ears grilled corn (cut from the cobb)
6 oz. grilled Shishito peppers (any small, sweet pepper will do)
2 Scallions
4 oz. Crème Fraiche (or sour cream)
1 lime
Salt & Pepper
Directions:  While the corn and peppers are on the BBQ, prepare the lime crème fraiche.  Half the lime.  Use a grater to remove the green rind from half of the lime, avoiding the white pith, to produce about 2 teaspoons of lime zest.  In a bowl, combine the crème fraiche, juice from both halves of the lime, and a sprinkle of salt & pepper.  Remove the grilled corn and peppers, and cool to touch.  Cut off and discard the stem ends of the peppers, then cut them into ½ inch pieces on an angle.  Remove the corn from the cobb.  Transfer both to the bowl of lime crème fraiche and stir in the lime zest.  Toss to thoroughly coat the corn and peppers, and season with a salt & pepper to taste.  Top with a sprinkle of thinly sliced scallions, and serve.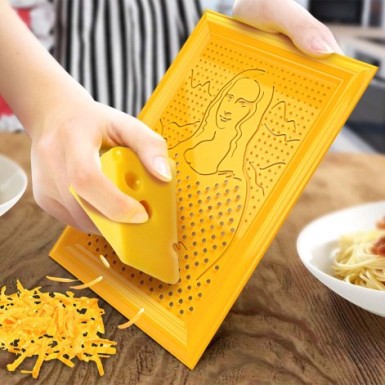 Need a little help with the art of preparing a new summer recipe?  This Mona Lisa kitchen gallery grater will instantly transform your Galley kitchen into a kitchen Gallery!  The artful design is also highly PHunctional.  Simply use the "cloth" areas of the portrait for grating cheese and the "background" areas of the portrait for grinding and zesting.
So, whether you're firing up the BBQ for a quick weeknight dinner or settling in with a cooler of cerveza for a summer Sunday PHunday, make a resolution to try something new!  After all, variety is the spice of life.