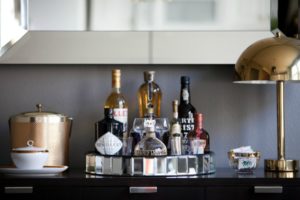 We've hit the heart of the summer and you know what that means- gatherings and parties galore!  So, whether you're hosting an annual family event or an impromptu summer soiree, PHAG is here to make sure you have the perfect bar setup for entertaining at home- it's our July Home Resolution!
For starters, it's important to remember that a home bar can be anything from a full-on, built-in beauty to a small side table (or even a cart).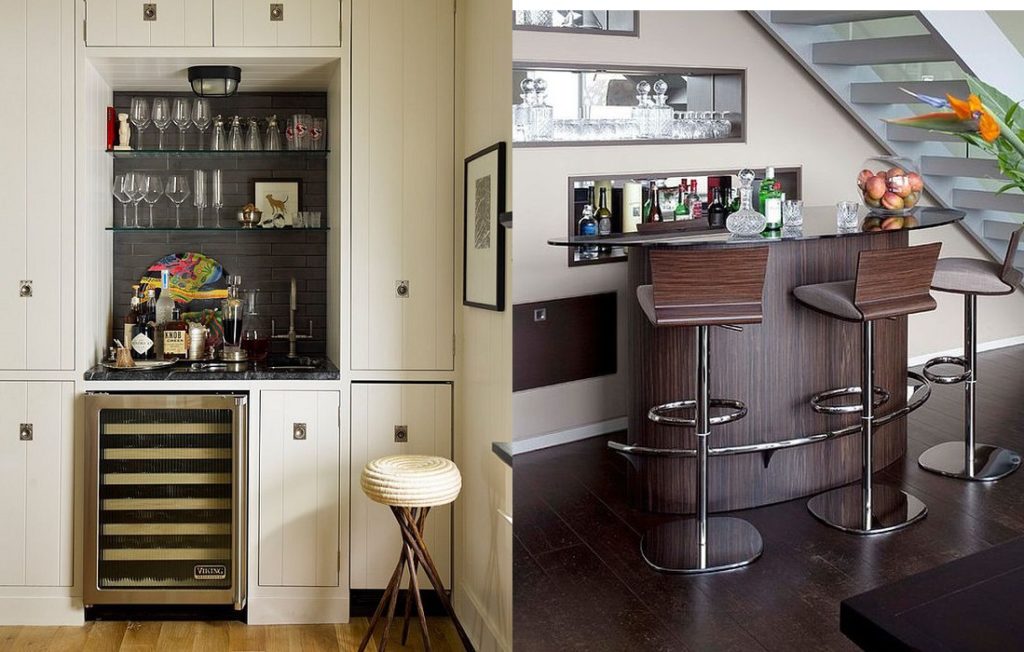 Any easily accessible surface in the heart of your home could be the perfect space for your bar setup.  In fact, a home bar is the perfect way to make those awkward and hard-to-use spaces PHunctional (like that odd-shaped corner by the powder room, or the unused space under the stairs).
Here's a sneak peek at one of our PHAG interiors design projects where we're transforming the side of a kitchen, typically used for a breakfast nook, into a beautiful bar area with open shelving (and LED puck lights)!  Stay tuned to the PHAG blog, or connect with us on social media, for images of the finished project when it's complete.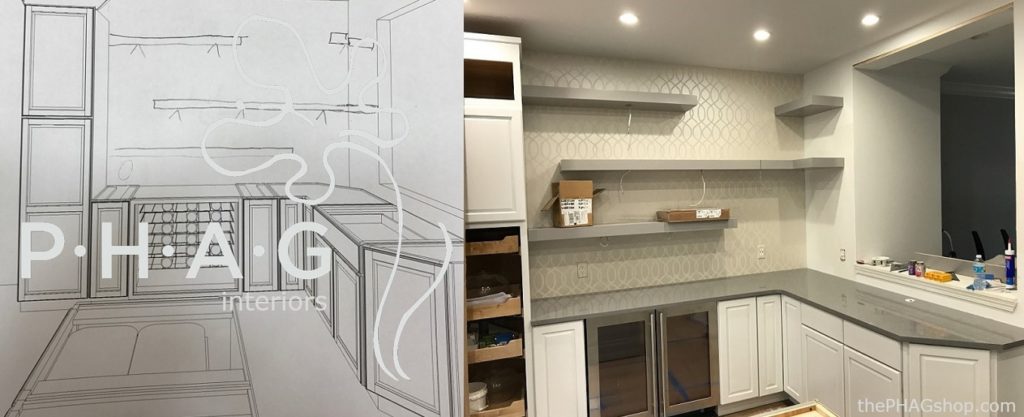 Once you've selected the perfect space, it's time to invest in the essentials… Tools, Spirits, Glassware, and don't forget the Mixers & Garnish.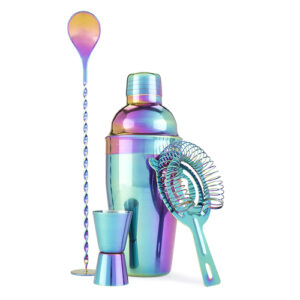 Shakers, and spoons, and strainers, oh my! When it comes to the signature tools required to setup a perfect bar, PHAG has a list we call The BIG 6: ice bucket, jigger, muddler, shaker, spoon, and strainer. Want to make it extra simple? Invest in a set!  Check out this set of four iridescent rainbow bar tools– not only are they amazing to look at, at $42.50, they're also an amazing value!
As for the spirits… you can throw a 10-star party with just 10 bottles! Our go-to list: bourbon, scotch, rum, gin, vodka, tequila, mezcal, Campari, triple sec, and vermouth. They're all pretty standard, except maybe the mezcal. This smoky Mexican booze is made from agave. Its popularity is on the rise, and it's the perfect ingredient for an on-trend summer margarita!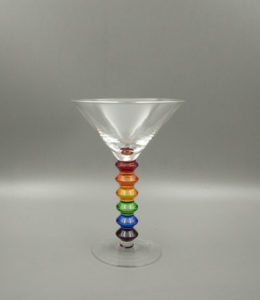 Champagne, highball, martini, margarita, pint, rocks, wine… the glassware options for your perfect home bar are seemingly endless! At the start, PHAG suggests keeping it simple with The TIGHT Trio: short, tall, and stem. With just three simple glasses on-hand, you can serve up most any drink in style.  Then, when you're ready, go all out with something like these rainbow stem martini glasses.
Finally, PHAGs take on mixers & garnish is made up of The juices, The fizz, and The flare (or PHlare)! No surprises here, the staple juices include your choice of cranberry, orange, pineapple, and tomato. The fizz comes from club soda, tonic, or ginger ale. The PHlare, well that could include a LOT of things, but we suggest lemons, limes, olives, horseradish, and hot sauce.
Now, belly up to the bar, you lush…it's time to party!